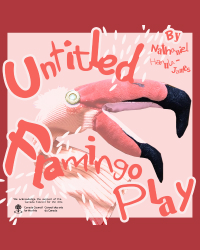 UNTITLED FLAMINGO PLAY
When
Runs from Thursday March 17 2022 to Saturday March 19 2022
Approximate running time: 1 hour
Venue
Event Notes
×
FREE ADMISSION POLICY - A security charge of $0.01 CAD is required to validate booking. Patrons can cancel or reschedule up to 48 hours before the performance without charge. Please email admin@tift.ca to make any changes.
In the event a patron fails to cancel or make alternate changes and does not attend the performance, a $25.00 charge per ticket will be applied per ticket to the patron's credit card. This charge will be used as a donation to the theatre and a tax receipt will be issued.
UNTITLED FLAMINGO PLAY
Written by and starring Nathaniel Hanula-James
Using a myriad of stuffed animals, writer, director and performer Nathaniel Hanula-James creates a vibrant world filled with colourful characters in this irreverent journey towards self discovery.
UPDATED COVID-19 POLICY: Due to the nature of our programming, in addition to the Ontario government's ongoing mask mandate, Talk Is Free Theatre WILL CONTINUE to require proof of vaccination after February 28, 2022 and reserves the right to implement other safety measures as necessary. We will do our best to keep you informed, as safety measures can change at any time.